1. Log in AdvancePro and click into the QuickBooks switchboard at the top navigation menu > Click Settings (Gear icon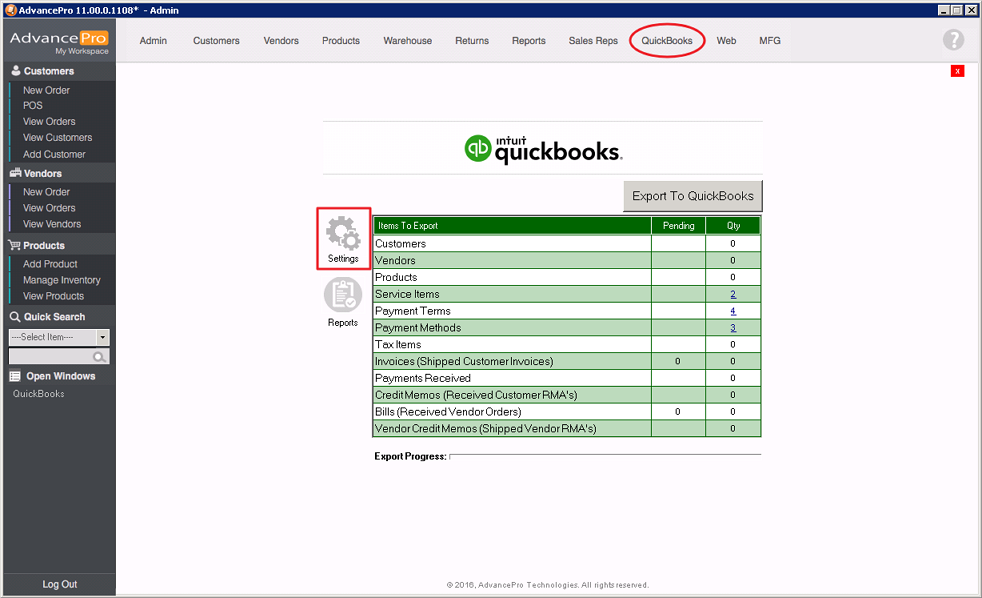 2. Click Connect to QuickBooks Online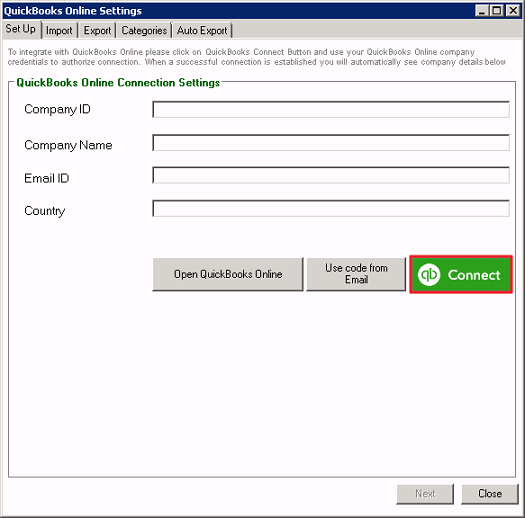 3. Your internet browser will open with the QuickBooks Online login/authentication page (Requires Internet Explorer). Login and verify your QuickBooks Online account then click Authorize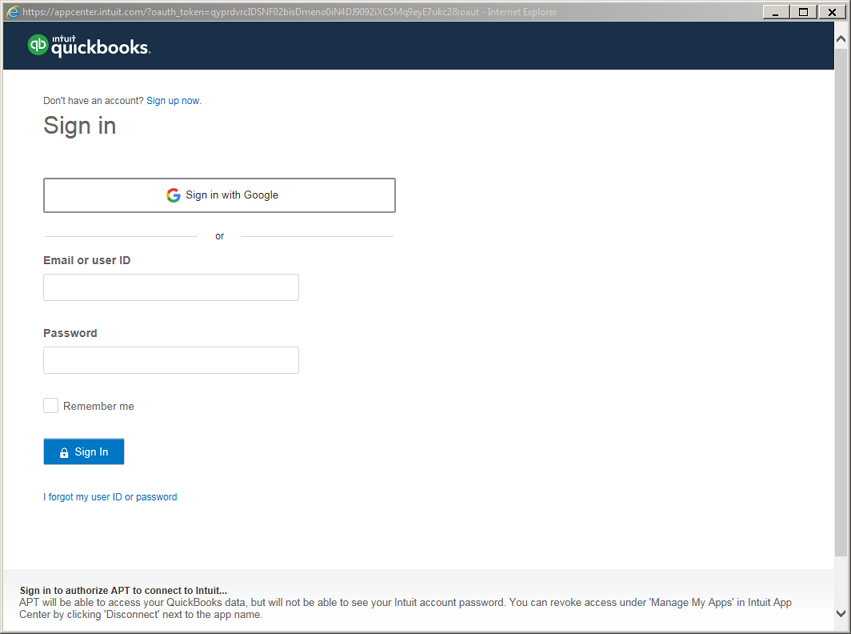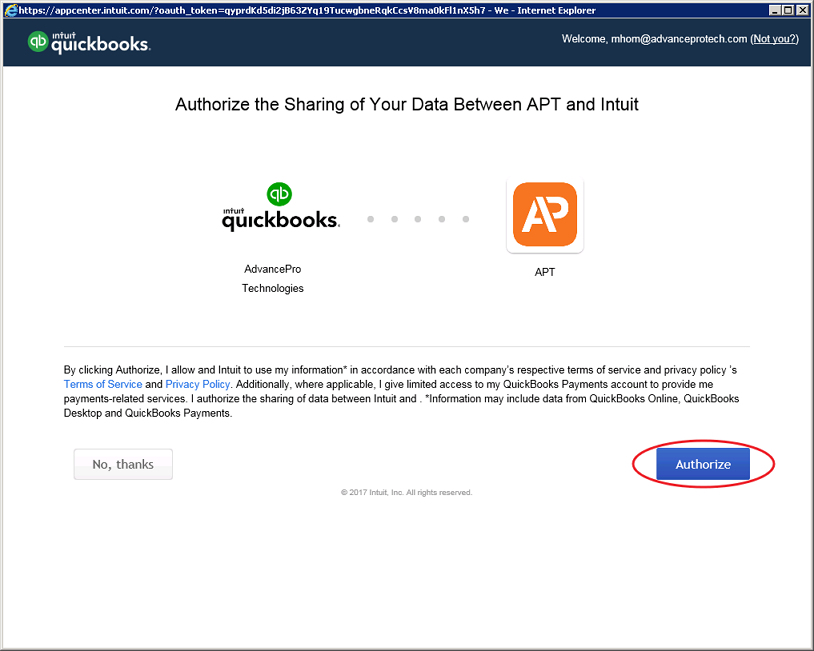 4. If the authentication is successful, you will be taken back to AdvancePro and the QuickBooks Online Connection Settings fields will be populated with the appropriate information. If you see anything else other than the screen below you will need to close and reopen this screen and try the process again from first step.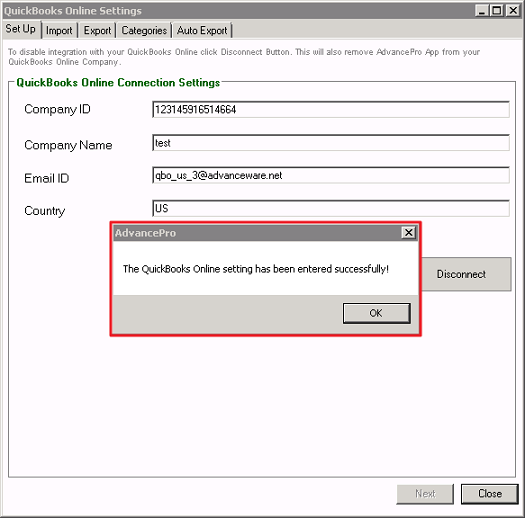 Configuring Product Account Settings


Before exporting to QuickBooks for the first time, it is necessary to configure the default accounts that will be debited/credited when exporting transactions and adjustments to QuickBooks.

The asset, income and COGS accounts for products will be updated in QuickBooks during the export to match the accounts specified in AdvancePro. If you need to specify different accounts for specific types of products, you can create category specific overrides which will be discussed in the next section.

To set the default account settings:

1. Click on the Export tab of the QuickBooks Settings window and import your accounts if you haven't already done so.

2. Select the appropriate account from each drop-down and click Finish to save the changes.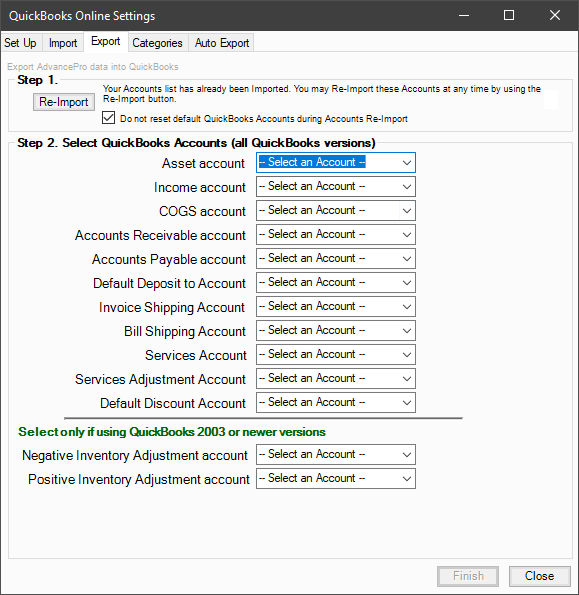 Explanation of Account Settings:

Asset Account - This is the inventory asset account that will be debited or credited by changes to inventory.

Income Account - This will be credited when invoices export to QuickBooks.

COGS Account - This will be debited when invoices export to QB.

Accounts Receivable Account - This will be debited when invoices export to QuickBooks.

Accounts Payable Account - This will be credited when bills export to QuickBooks.

Default Deposit to Account - This specifies the default option when receiving payments in AdvancePro and can be overridden. It should be an 'Other Current Asset' or 'Bank' account type.

Invoice Shipping Account - This is the account that will be used for shipping income on invoices.
Bill Shipping Account - This is the account that will be used for shipping charges on bills.
Services Account - This corresponds to the 'expense account' field for service items in QuickBooks. This account will be debited/credited when service items are used on bills or invoices.

Services Adjustment Account - This is a clearing account used for tracking freight costs on bills. This is applicable if you are using the freight module for tracking landed costs.

Default Discount Account - This specifies the default account that will be used for promotion codes (which can be overridden). Each promotion code created in AdvancePro will create a corresponding discount item in QuickBooks that will appear on invoices. The account can either be an expense or income (contra-income) account.

Negative/Positive Inventory Adjustment accounts - These are used for tracking adjustments to inventory and MUST NOT be the same as the asset account (they offset the adjustments to the asset account). Typically, these would be an expense, income or COGS accounts and may be separate accounts or a single account for tracking both negative and positive adjustments.


Setting Accounts for Specific Product Categories

If you use different accounts for different types of items in QuickBooks, you can set category specific overrides in AdvancePro. For each category, you can specify an Asset, Income, COGS and Expense account that will override the default account settings. If all your products are assigned to the same accounts in QuickBooks, you can skip this step.

If you have not already done so, you will need to create the categories and assign the products to those categories as necessary. See: How to Create Categories and assign Products to Categories

To set the category specific account settings:

1. Go to QuickBooks > Settings > Categories tab.

2. Select a category from the Categories drop-down and then select any accounts from the options below that you want to override the default settings.

3. Once one or more accounts have been selected, click Save. (For any you do not specify, the default accounts will be used.)

4. Repeat steps 2-3 for any other categories that require unique account settings.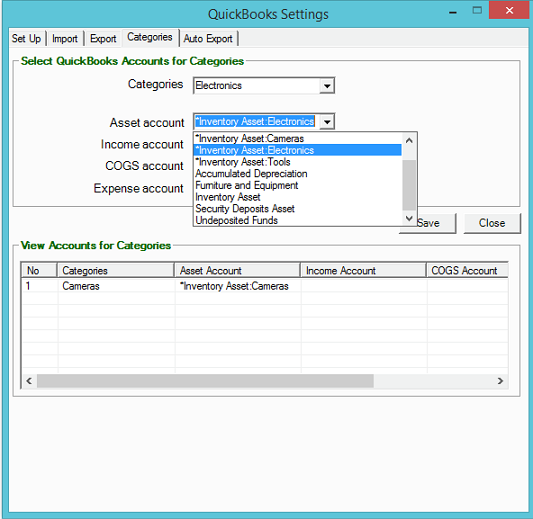 QuickBooks Online Import into AdvancePro

1. Go to the QuickBooks switchboard > Settings > Click into the Import tab. When you are ready to sync, click the Initial QB Online Import button and click OK to confirm and begin sync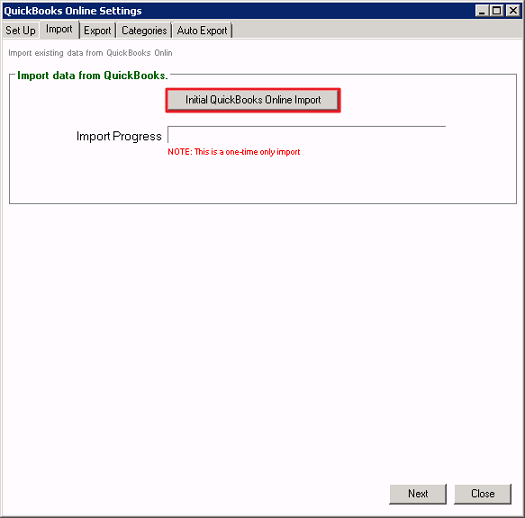 Sync progress will show as the sync runs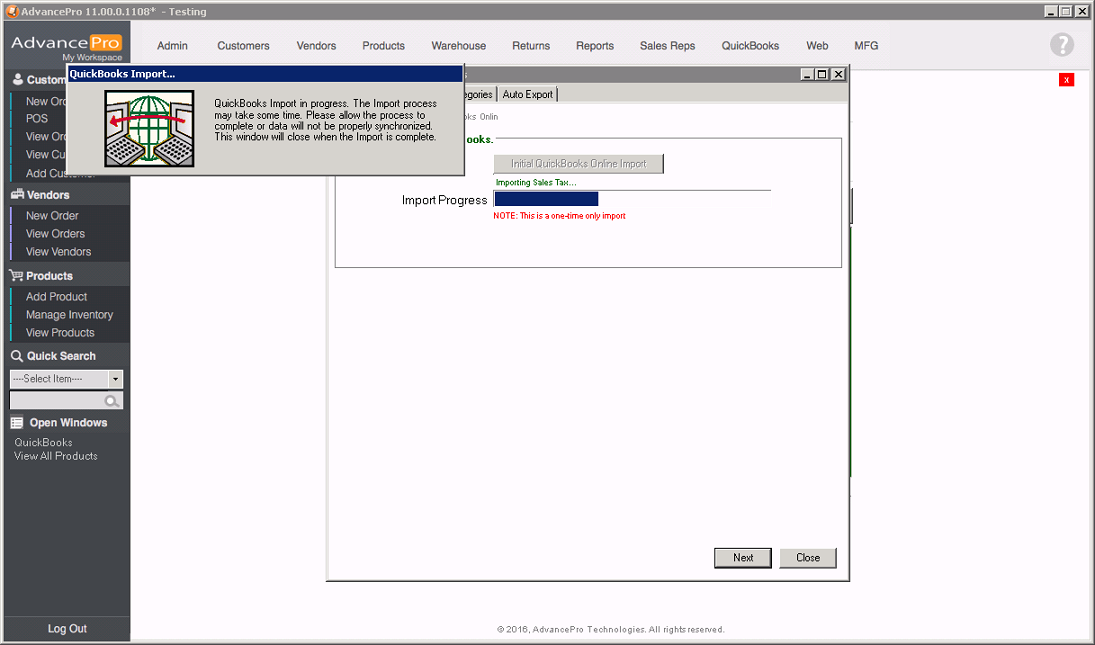 You will be alerted if the import was successful. The sync is now complete and AdvancePro should contain the synced information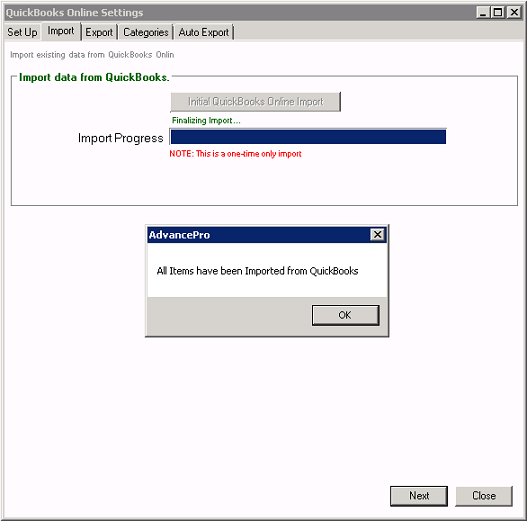 QuickBooks Online Export from AdvancePro

1. After authorizing and completing the setup, you are now ready to perform an export. When ready click the export button on the QuickBooks switchboard. When the export is complete, you will see a report with the statuses of each record that was synced.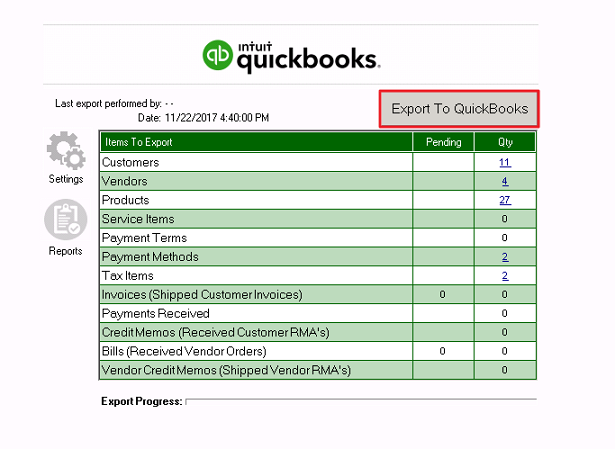 2. The below pop-up message will be displayed during the export and the Export Progress bar will indicate the current progress.




3. When the export has finished, you will see a report of all successfully exported items, as well as any failed items. You can filter the list by clicking on Export Successful or Export Failed at the top-right.



4. If there are any items that failed to export, you can click the blue REF ID number for each line to see more details of the problem. Resolve those issues as necessary and repeat the export process until there are no more failed items shown. There is a button at the bottom-left of this screen that will allow you to re-link all failed exports.