Use this report to view any customer orders affected by a back-ordered product.
Columns
• Customer
• Ref #
• PO#
• PO Date
• Back Qty: the amount on back order that the customer is waiting for
• Ava. Qty: stock on hand
• Price: Price on CPO per item
• Back Sale: Back Qty * Price
• Inline Sale
Click the button for Products Reports in the Reports Switchboard. Then click Customer Back Order Items.
The Customer Back Ordered Items Report form will open. Enter the date range for the report.
Select the warehouse if desired.
Enter the back-ordered SKU in the appropriate field. (Required, exact-match)
If the product is a variant or a unit of measure, click the checkbox and enter the exact name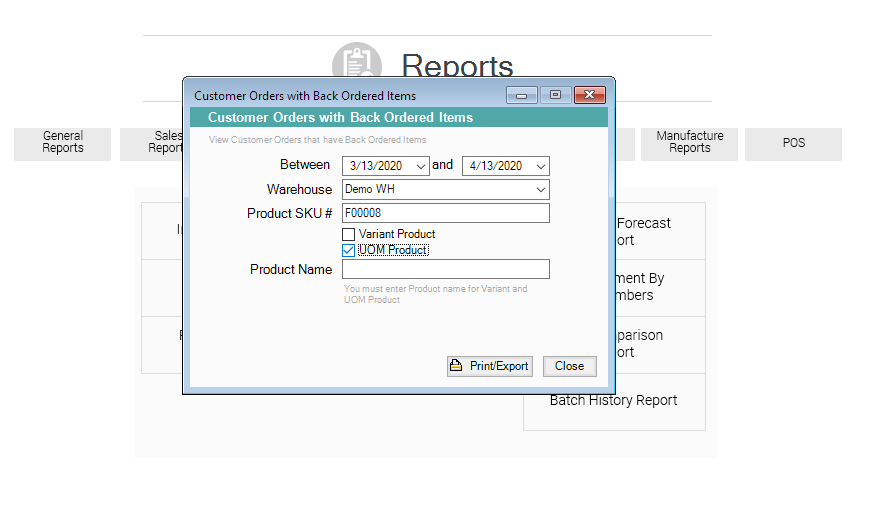 If the product has variations or different units of measure, indicate so using the checkboxes. Then, enter the product name exactly including the variation or unit of measure, exactly as it appears on the product form (you can cut and paste, if necessary).
Click Print/Export.
The report will open in another window. At the top right of the window, you will notice the Crystal Reports button bar. From there, you can export and/or print the report, or change the view options.
Print/Export report when ready.
For more information on reserved Qty please refer to Warehouses